CD's are available here; bringing you top quality original and traditional (jazz-based) music by seasoned artists. All CD's are $15. To order, Please email:
Here are some of our well received disks…
Bouganvillea
by Peter Einhorn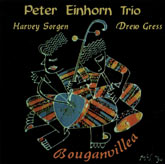 Open Sea

Featuring
Peter Einhorn…Guitars, Guitar synth and composer
Harvey Sorgan…Drum(s)
Drew Gress…Double Bass
"an original statement by a mature artist"
– Jim Wilkie
host of 'Jazz After Hours'
on National Public Radio
"Einhorn can play a lot of guitar, however, he concentrates on fine group play and his precisely and varyingly articulated solos. I've enjoyed this date more each time I've heard it."
– Dale Smoak
Cadence magazine
"…if you love jazz in it's various forms, then you'd get right into this."
– hEARd Magazine (Australia)
Strings Attached – Update!
by Ira Sullivan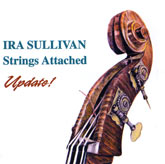 Featuring
Ira Sullivan…Trumpet, Flugelhorn, Alto Flute
John Alexander….Saxes
Don Millitello…Piano
Debbie Spring…Viola
Nicole Yarling…Violin
Laurie Haines…Cello
John Yarling…Drums
David Einhorn…Double Bass
Gavin Davies…Drums
Peter Einhorn…Guitars
Robert Thomas Jr…Hand percussion
"Warm, accessible yet distinctive melding of pop and jazz."
– Billboard Magazine
"Sullivan is, as ever, a brilliant improvisor…Listeners with open minds and broader interests will find much to enjoy in this dulcet-toned, imaginitively arranged blend of sounds."
– Jazz Times
"It is a rare treat to find an albumn that is unorthodox in conception, execution and instrumentation."
– Leonard Feather, Los Angeles Times
Live at the Bistro
by Peter Einhorn
and George DeLeon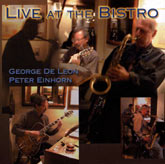 Wrap Your Troubles In Dreams

Featuring
George DeLeon…Tenor Sax
Peter Einhorn…Guitars
Songs
My Buddy…W. Donaldson
My Ideal…R. Whiting
Did I Remember…W. Donaldson
Yellow Days…A. Carrillio
Rosetta…E. Hines & H. Wood
Easy Living…L. Robin & R. Rainger
My Melancholy Baby…E. Burnett
Just You Just Me…Greer
How am I to Know…unknown
Wrap Your Troubles in Dreams…H. Barris
It Never Entered My Mind…R. Rodgers
Pennies from Heaven…A. Johnston
For Evan's Sake
by Peter Einhorn
and Peter Tomlinson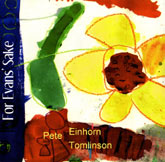 One Act In Two Scenes

We Will Meet Again

Featuring
Peter Tomlinson…Piano
Peter Einhorn…Guitars
"…what a beautiful sound. I loved it!"
– Jim Hall
Songs
Alone Together…Dietz & Schwartz
Golden Earrings…V. Young
For Evans' Sake…P. Tomlinson
Pannonica…T. Monk
One Act in Two Scenes…P. Einhorn
I Concentrate on You…C. Porter
Only Trust your Heart…B. Carter
Charlie's Blues…P. Tomlinson
We Will Meet Again…B. Evans
Here is our latest!
Seems Like (new) Old Times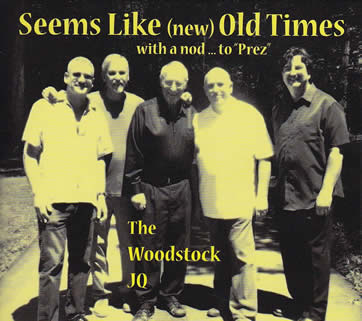 Sometimes I'm Happy

Featuring
Jeff Siegel…Drums*
Peter Einhorn…Guitars
George De Leon…Saxophone
Peter Tomlinson…Piano
Lou Pappas…Bass
Songs
Seems Like Old Times…Lombardo & Loeb
Undecided…Robin & Shavers
Tickletoe*…L. Young
Somebody's Blues*…G. De Leon
I Wish I Knew*…Warren and Gordon
I'm Gonna Sit Right Down and Write Myself a Letter*…Ahlert & Young
Sometimes I'm Happy…Youmans &Caeser
Somebody Loves Me…Gershwin, MacDonald, & DeSylva
I'm Glad There Is You…Dorsey & Maderra
Lester's Blues*…L. Young
I'll Be Seeing You…Fain and Kahal